Chalet Kammleitn, Austrian Alps | Drink menu
Hot beverages
Soft drinks

Beers, Wines, Shots
Premium white wines from the wine region Somló
(Fekete Béla Winery)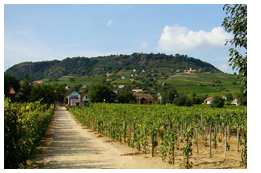 Our selection:
Somlói Hárslevelű
Somlói Juhfark
Somlói Olaszrizling
Somlói Furmint
From 2014 the wineyard and the winery has been managed by our family - with 2 other families - which is treated with a lot of love and care.
About the wine region
Hungary's smallest wine region lies on the slopes of the Somló Mountain (432 m). The entire region consists of one long-extinct volcanic hill, located north of Lake Balaton. Most of the great wines produced in Somló are made in tiny quantities, and they are hardly exported.

Once you try a wine from Somló, the saying goes, you will forever recognize the taste of them. They tend to be elegant, high in alcohol, very acidic, and have lots of volcanic minerality. They are wines meant to be aged.